F-1 Luxury Trolley For Anesthesia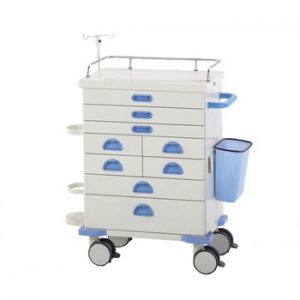 Features:
Size: L650*W420*H1020mm packing size: 880*930*530mm
Epoxy coated steel construction, mainly consists of groups of drawers for storing different kinds of goods.
Base with 125mm castors with brakes.
Four corners of the base are equipped with bumpers
With related accessories for anesthesia as bellow:
IV pole
waste bin
stainless steel cup
oxygen tank holder
pushing handle
Click here to read more about anesthesia trolleys.