ECG cable 10 – lead
ECG cable 10 – lead:
Electrocardiography is the process of producing an electrocardiogram (ECG or EKG), a recording of the heart's electrical activity. It is an electrogram of the heart which is a graph of voltage versus time of the electrical activity of the heart using electrodes placed on the skin. These electrodes detect the small electrical changes that are a consequence of cardiac muscle depolarization followed by repolarization during each cardiac cycle (heartbeat). Changes in the normal ECG pattern occur in numerous cardiac abnormalities, including cardiac rhythm disturbances (such as atrial fibrillation and ventricular tachycardia), inadequate coronary artery blood flow (such as myocardial ischemia and myocardial infarction]), and electrolyte disturbances (such as hypokalemia and hyperkalemia).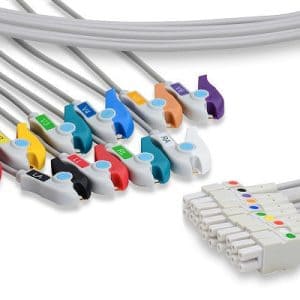 The product images shown are for illustration purposes only and may not be an exact representation of the product.
For similar products click here.
click here to read more about Breathalyzers.