Hydraulic patient stretcher with a 4 part stretcher surface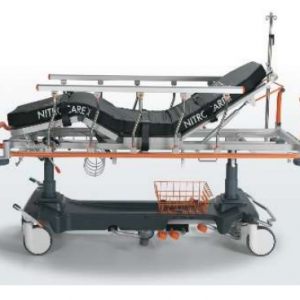 Main Features:
Leg section adjustment with a gas spring mechanism Hydraulic height adjustment and hydraulic
Trendelenburg and reverse Trendelenburg tilting Air assisted backrest operation.
Metal folding side rails.
Mechanical CPR (Flat position of the backrest for emergency CPR)
Central locking castors with linear directional movement (200mm)
Plastic protection bumpers.
Full X-ray from the head to the foot.
X-ray cassette holder.
Oxygen cylinder holder.
5th castor direction tracking.
Basket.
Urine bag holder.
Belt hook.
Accessories slots.
Height adjustable IV pole.
32 density mattress 840 x 2140 mm
H MIN : 600 mm
H MAX : 910 mm
Click here to read more about stretchers.