Disposable NF1200 AED Battery – Savvy
Disposable NF1200 AED Battery – Savvy Compatible with NF1200 AED Defibrillator.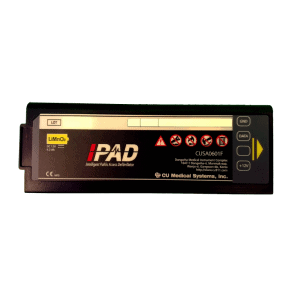 .Defibrillator
Operating Mode: Semi-automated, Full-automated(NF1201)
Waveform: e-cube biphasic (Truncated exponential type)
Output Energy 200 J at 50 A
Self-Diagnostic Test
Protocol: Voice prompts and indicators guide the user throughout a rescue operation
Controls: Power On/Off Button, i-Button, Shock Button
Indicators:  7 color State LED, Graphical Rescue Guide LED.
Self-Diagnostic Test
Auto
Power On Self-Test, Run-time Self-Test
Daily, Weekly, and Monthly Self-Test.
ECG Analysis System
Function: Determines the impedance of the patient and evaluates the ECG of the patient to determine whether it is shockable or non-shockable
Impedance Range: 50 Ohm to 175 Ohm .
Defibrillator Pads
self-adhesive, disposable, non-polarized defibrillation pads.
Disposable Battery Pack
Battery Type: 12V DC, 4.2Ah LiMnO2, Disposable
Capacity: At least 200 shocks for a new battery or 8 hours of operating time at room temperature
Data Storage and Transfer
InfraRed: Wireless transmission of event data to PC through IrDA port
Data Stored: First 40 minutes of ECG and the entire incident's events and analysis decisions.
Standard Package
Device(1), Adult pads(1), Disposable battery(1), Carrying case(1), ), User's manual(1).
Optional Accessories
Pediatric pads(1), CU-Expert PC S/W (1), IrDA Adapter(1)
Click here to read more about AEDs.