Essential AED Pads Suitable for NF1200 (Adults)
Essential AED Pads Suitable for NF1200 (Adults) Compatible with NF1200 AED Defibrillator.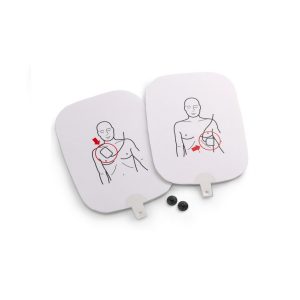 MODEL
NF1200
NF1200 AED Defibrillator Defibrillator
– Operation mode: Automatic– Waveform: e-cube biphasic (Truncated exponential type)

– Energy:150-200J (escalating)

Adult: nominal 150 Joules into a 50 ohm load.

Infant/Child: nominal 50 Joules into a 50ohm load.

Shock to Shock Cycle Time
Typically less than 20 seconds
Protocol
Voice prompts and indicators guide user though protocolFollows preconfigured settings. Can be modified with software.
Voice Instructions
-Detailed voice messages guide responder through use of the defibrillator
Controls
Shock Button, i-Button, On/off Button
Indicators
7 LEDs (different colors), i-Button
Environmental/Physical Requirements
– Temperature: 0° ~ 50°– Humidity: -0% ~ 95%

– Vibration: Meets EN1789 random and swept sine, road ambulance specification

in  operating and standby states.

– EMI (Radiated/ Immunity): Meets EN55011 Group1 Level B Class B and

EN61000-4-3

Battery
-Type: 12 Volt DC, 4.2Ah, lithium manganese dioxide, disposable long lifeprimary cell. Battery Life,  200 shock / 10 hours or 2 years.

– Capacity: Minimum 120 shocks or 4 hours of operating time.

Automated and User-Activated Self-Tests
– Daily Self-tests: Tests internal circuitry, waveform delivery system,battery capacity, and software.

– Battery Insertion Test: Upon battery insertion, extensive automatic self-tests

and user–interactive tests check device readiness

Physical
– Size: 220mmW x 260mmL x 70mmH– Weight: 2,2Kg
Data Recording and Transmission (OPTIONAL)
– Infrared: Wireless transmission of event data to personal computer using theIrDA protocol.

– Data Stored: First 40 minutes of ECG and the entire incident's events and

analysis decisions
Click here to read more about AEDs.